Welcome to Catch it at the Comic Shop, where the Panel Patter team looks at what's coming out at your favorite store or digital device this week. Each one of us that participates picks up to five items due out this week, with a little bit about why we like them. (NOTE: We use solicitation material for this, so if we miss creators,
please talk to your publisher
!) Sometimes we might only have a few items to share, other weeks, keeping it to five will make for hard choices. Here's what the team wanted to highlight this week...
Sean's Picks
Stillwater #1 by Chip Zdarsky, Ramon K Perez, Mike Spicer & Rus Wooton, published by Image Comics
Two buddies. One, a chronically unemployed hot-head, the other, a smooth talking thrill-seeker. Our story begins with the hot-head losing his job.. again, and after a night of celebration he receives a mysterious letter to claim an inheritance left him from an unknown family member in a town never seen. The town: Stillwater. Once the pair of dimwits reach their destination nothing is what it seems and the real story begins. This is pure Zdarsky and it is as clear as ever that he's having a blast writing this. The chemistry between the two friends, the interactions with others, and the as-to-be expected Chip-charm in the dialogue make it a dead giveaway. The rest of the creative team round out a wildly accessible read with a perfect amount of mystery, humor, action, and pacing to make it a very strong debut. I read this one already and I'm hooked, and in the words of the man himself: "I'm Chip Zdarsky. I write comic books. I wrote this one. I will write again. This is a threat".
20th Century Boys Perfect Edition Vol. 9 by Naoki Urasawa, published by Viz Media
This is the manga that got me started reading manga. It is a fantastic read with an incredible amount of world-building and character development. As time went on, reading this series, I grew to genuinely share pity and compassion for the lives of these characters. This truly is a classic in every sense of the term. Though, I wouldn't necessarily suggest reading this new volume if you haven't read anything that came before it, but I would definitely suggest you capitalize on this recommendation and use it to dig back and find book one. And, yes, this is another book that's loosely centered around a secret society, a band of childhood friends, and the apocalypse, a premise that's become a dime a dozen, but you have my word.. with this one you will get more than your money's worth.
Goosebumps: Secrets of the Swamp #1 by Marieke Nijkamp, Yasmin Florez Montanez, Rececca Nalty & Danny Djeljosevic, published by IDW
The classic series begins again with a story set in a swamp. Blake is brought to this swamp for the summer by her Aunt and Blake's love for monster hunting in her favorite video game,
Lore Hunters
, connects her with some new friends who live there. One of these friends, Lily, conjures up a bright idea to search the forest.. for real monsters. Typical
Goosebumps
story tropes told in the as-to-be expected fashion: clean, fun, all-ages horror. As an introduction to this new chapter of the long-standing title, I find it as yet another solid read. Bring the younger readers along for this one and introduce a little fun fright into their lives. The long-term investment should prove to be worth the gesture.
Tenacious D: Post-Apocalypto by Jack Black & Kyle Gass, published by Fantagraphics
Ok, so confession time. I was unaware of the film, the album, and the tour of the same name. What brought my attention to
Post-Apocalypto
was the
Fantagraphics
graphic novel that completes the ambitious project that the always entertaining Tenacious D have been putting together. With Kyle Gass on script and Jack Black on illustrations there really is no conceivable way that this book is NOT absolutely, flat-out hilarious. If there are any pairing of people who would be able to entertain the world as it heads down the apocalypse, that duo would unquestionably be Jack Black's and Kyle Gass' Tenacious D. As of last week
Fantagraphics
had already sold out on first print pre-orders but are setting up shop for another round of printings. Get this book before the actual apocalypse hits so that you have something to refer back on to find the humor that surrounds us all that would otherwise go overlooked.
Slaughterhouse-Five OGN by Kurt Vonnegut, Ryan North, Scott Newman & Albert Monteys, published by BOOM!
The classic Kurt Vonnegut anti-war sci-fi story is now a graphic novel. So it goes. I have high expectations for this with the expected amount of reservation. I'm most interested in seeing how the galactic zoo housing Billy Pilgrim will be rendered. And so on.
Beth's Picks:
Detective Comics #1027, various, published by DC Comics
As someone who grew up in the age of DC Giants, 100-Page Super Spectaculars and Dollar Comics, I get a little giddy when I see the oversized issues DC has been putting together to celebrate recent milestone issues. Sometimes my giddiness has been rewarded with a great read, and others with a sad trombone (womp-womp). The creative line up for this issue—including Marv Wolfman, Brian Michael Bendis, Matt Fraction, Chip Zdarsky, Kelly Sue DeConnick, John Romita Jr, Grant Morrison, Walt Simonson and Tom King, among many others—is impressive, so hopes are high for that this issue will be worth the $9.99 price tag. (And yeah, yeah, I know: #1026 was actually the thousandth appearance of Batman in Detective. But who cares? In 2020, I'll take a good celebration wherever I can get it.
James' Picks:
Royal City HC the Complete Collection by Jeff Lemire, published by Image Comics
I was a huge fan of Royal City when it came out. Frankly, anything Jeff Lemire both writes and draws himself is something I'm probably going to love. But it felt like a return to a more person form of storytelling, even with some supernatural elements. I recently reread the whole series and it clicked for me in a way that I'm not sure that it did when I was reading the issues individually. I highly recommend picking up this hardcover that collects the entire 15-issue series. It's a moving, thoughtful look at mourning, memory, family, and loss. And more generally, Royal City really brings to life the idea that "death ends a life, not a relationship". Lemire's art is gorgeous here, and really expressive. For anyone looking for a moving, sad, but ultimately hopeful story, I recommend Royal City.
Slaughterhouse-Five OGN by Kurt Vonnegut, Ryan North, Scott Newman & Albert Monteys, published by BOOM!
This is a book that's been incredibly important to a lot of people for many years (see Mike's review of the book Friday for a more in-depth look), and it's a risky proposition when you decide to adapt a beloved, influential book to another medium. I've only started to read this adaptation, but I can safely say that I'm really enjoying it. It feels true to the spirit of the novel (as far as I can recall, it's been 20+ years since I read it). Vonnegut's humor and sharp wit are here, and Ryan North is an excellent modern author to help update this story. The story is brought to life by the wonderful artwork of Albert Monteys. You might know Monteys from his Panel Syndicate series Universe, which is amazing and I 100% recommend you pick up in digital or print form (the print version is coming in the near term). His art is funny and expressive and exaggerated, and full of life and personality and astute humor. This is a terrific adaptation of a beloved classic.
Iron Man #1 by Christopher Cantwell and CAFU, published by Marvel Comics
I've become such a fan of MCU Iron Man, that I've come to enjoy Tony in the comics universe not quite as much. So, I've been differing degrees of warm and cold with different people's taes on Tony Stark over the years. But I'm really interested in seeing what Christopher Cantwell has to say. Cantwell has written some profoundly weird, really interesting comics (like
She Could Fly
and
Everything
). He's also written a
Doctor Doom
series that I've been enjoying, so I'm interested to see what ideas he brings to the character. And CAFU is an absolutely fantastic artist. His work recently on Valkyrie was wonderful, along with earlier work he's done for Valiant. He's definitely someone who can really bring a fun superhero story to life.
Mike's Picks: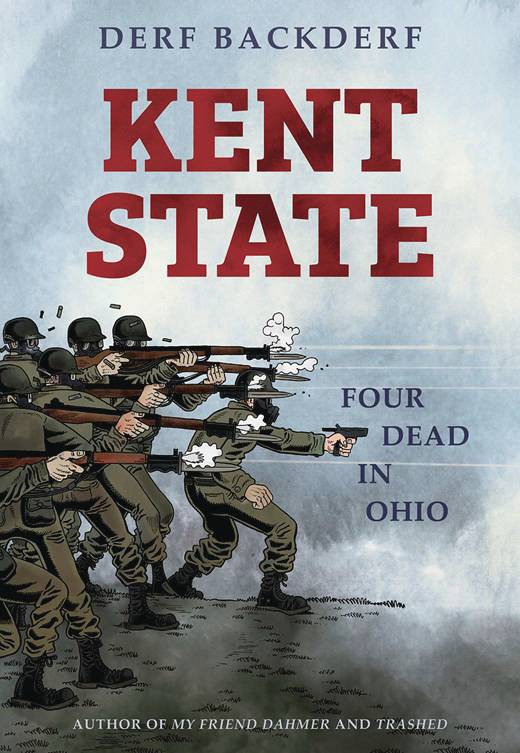 Kent State: Four Dead in Ohio by Derf Backderf, published by Abrams Comicarts
I don't care that this book may have actually arrived in stores last week. It's solicited this week in Previews, and I'm picking it, damnit. I've been anticipating this book for a while, even before Covid impacts delayed the book by months. Derf's ceiling as a cartoonist continues to rise. After making a name for himself with more personal works like Punk Rock and Trailer Parks and My Friend Dahmer, I'm intrigued to see how Derf approaches a major historic event in the Kent State shootings. Stories like these are too important to forget, especially in our current climate, and I know Derf will bring something special to this project.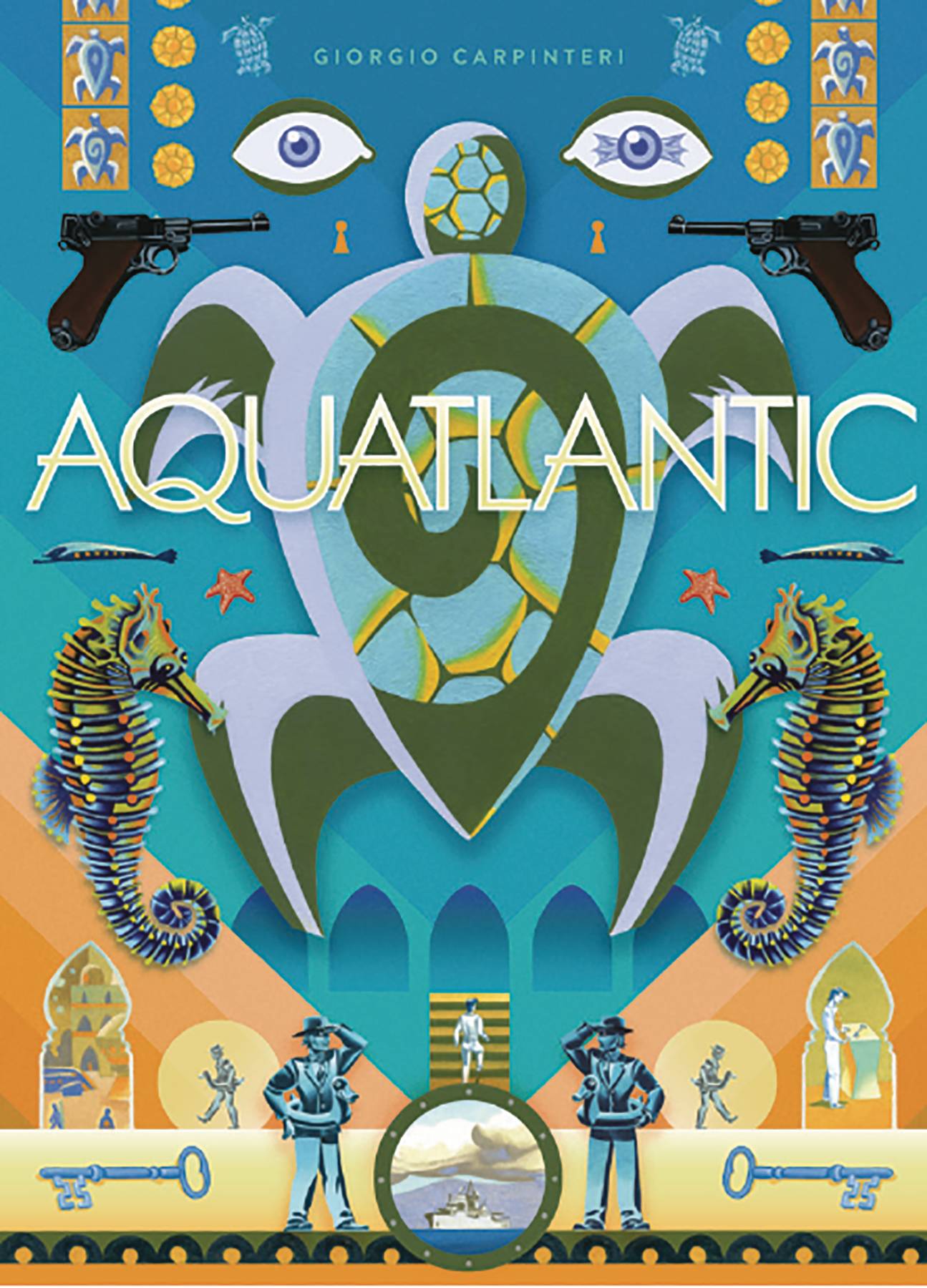 Aquatlantic by Giorgio Carpenteri, published by Fantagraphics
Carpenteri is a master of Italian cartooning, but I'm not terribly familiar with his work. I was able to check out some of the previews pages, and I was mesmerized. Carpenteri shifts between brightly-colored pages and sections of various monochromes to create this adventure. His art is intricate and precise, and the story drips with a scathing satire of xenophobia and elitism. But really, I'm coming for Carpenteri's art that moves through different styles and periods, and still influences cartoonists today.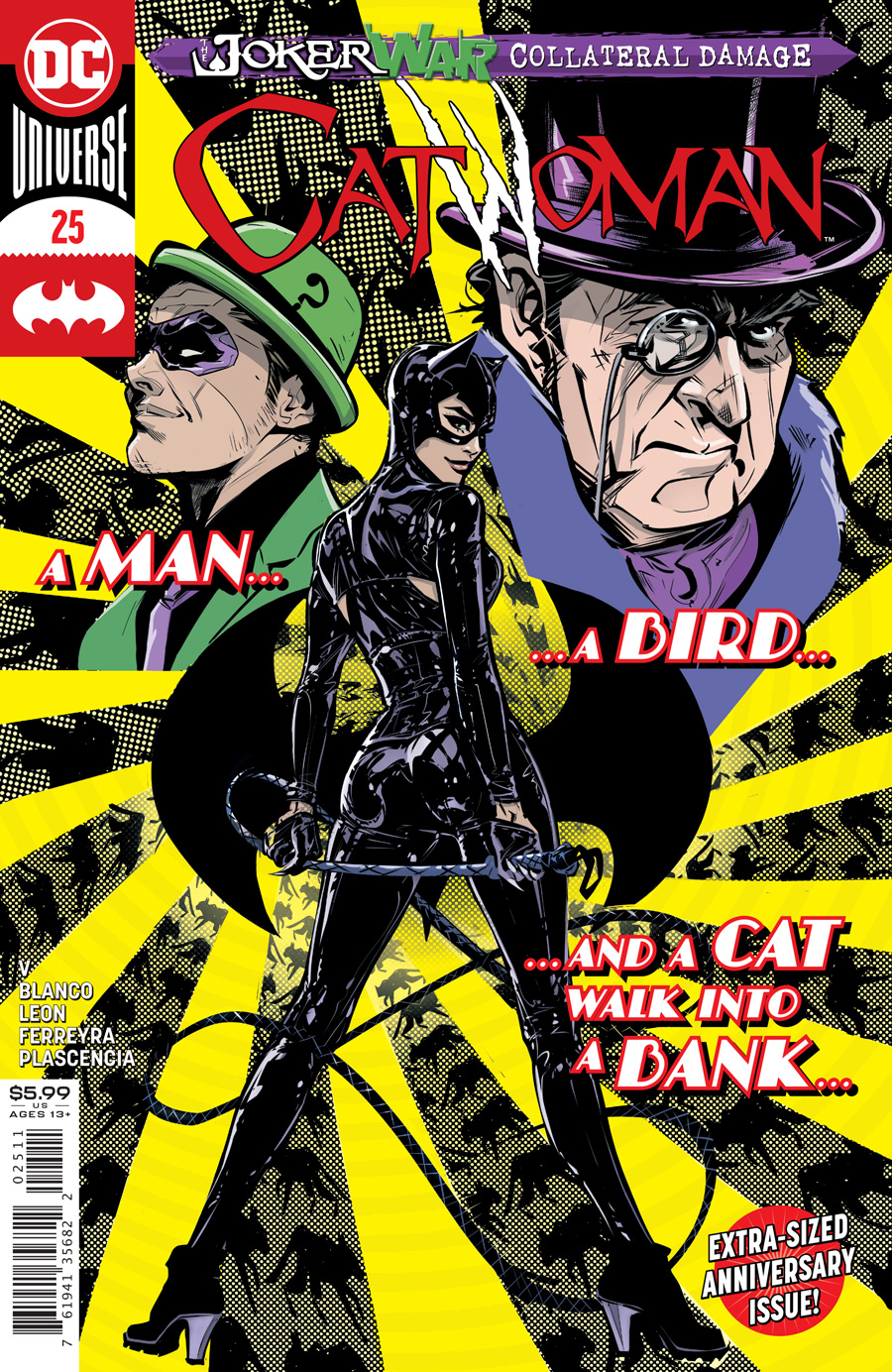 Catwoman 25 by Ram V, Fernando Blanco, John Paul Leon, Juan Ferreyra, and Joelle Jones, published by DC Comics
If you're keeping up with Joker War, I assume this is already on your radar. And that's a perfectly good reason to pick it up. But I'm stoked for this issue because it debuts Ram V as the new series writer. And, to be fair, Selina's Joker War side story has also been the more intriguing aspect of the event. But that event wraps fairly soon, so much of what Ram works to accomplish in this over-sized issue is to preview the new status quo for Selina. He's no stranger to shifting the dynamic on an established book, already proving he can pick up a series and take it to new heights with Justice League Dark, assuredly the best DC monthly on the stands. And that's what I'm most excited about - Selina's return to her roots and the direction Ram V and Fernando Blanco take that story.
Rob's Picks:
Guantanamo Voices True Accounts From the World's Most Infamous Prison HC, edited by Sarah Mirk, stories adapted by Nomi Kane, Hazel Newlevant, Gerardo Alba, Alexandra Beguez, Omar Khouri, Maki Naro, Jeremy Nguyen, Tracy Chahwan, Kane Lynch, Kasia Babis, and Chelsea Saunders, published by Abrams
Despite some ill-timed words to the contrary, after 9-11, America had plenty of issues with Islamophobia, and one of the low-lights of the time was the way in which Guantanamo Bay was used to inhumanely house people suspected of terrorist. A scourge of three Administrations now, Mirk takes the real stories and presents them to the public, using the medium of comics in the same way she has for The Nib, among many other places. This one isn't going to be for the faint of heart, but we must try to understand our history, not bury it useless tweets. I trust Sarah to do this right, because she comes from zine culture and has a history of handling delicate issues carefully.
Woods by Mike Freiheit, published by Birdcage Bottom Books
A woman tries to get away from the atmosphere that caused her significant mental trauma, but it's not as easy as that, as this horror story that mixes elements from the real and supernatural worlds into an analogy for what many are feelings in today's society. That's one of the things horror can do--make us look at things from a different angle by highlighting them with our worst fears. Freiheit's black and white art, which looks like it's either charcoals or a digital equivalent, really sets the mood in a story I think we can all relate to right now. Plus, look at that amazing cover design!
You Look Like Death: Tales from the Umbrella Academy #1 by Gerard Way, Shaun Simon, INJ Culbard, and Nate Piekos, published by Dark Horse
Whelp, we all knew that there would be more Umbrella Academy comics, because the phenomenal show means many fans (including yours truly) are seeking out more. Instead of the entire group, we're getting a spin-off with Klaus, who was one of the hits of the series. 18 and on the outs with Hargreaves, Seance heads to Hollywood. It goes about as well as you'd expect. Culbard's art is an interesting choice, but it fits the style of the originals and if he's very good at keeping up a steady pace of comics, as any reader of 2000AD knows well. I don't know if this is going to be awesome or a total cash grab, but either way, I'm in to find out.
Tenacious D: Post-Apocalypto by Jack Black and Kyle Gass, published by Fantagraphics
In the grand tradition of the Blues Brothers, Tenacious D and the Pick of Destiny is one of the best musicals of all time. Made up of Jack Black, the comedian who can do almost anything (except make King Kong good), and his long-time friend and collaborator, Kyle Gass, the team recently reunited for a concept album called Post-Apocalypto, a kick-ass album that also got a strange-as-all-hell animated adaptation. Now, after touring (that thing bands used to be able to do in the USA), the pair have written a graphic novel version, and if you aren't sure it's actually Jack drawing, a few page scans will change your mind. The story finds KB and JD survivors in a world gone mad. They must pilgrimage across the land, fighting many foes, including a Trump analog that does a better job of lampooning him than most. It's big, dumb fun, and is shaping up to be a big hit for Fantagraphics.