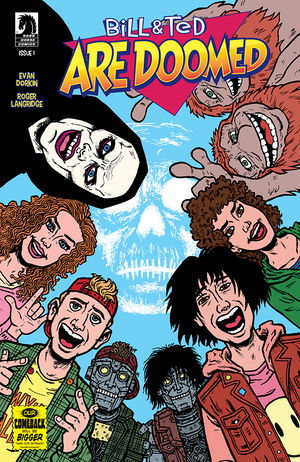 I can't tell you the amount of times I've watched Bill and Ted's Excellent Adventure. I won't bore you with tales of Halloween costumes, or tracking down the original Marvel Comics adaptation years after it arrived on stands. But I just want you to know, I'm as excited for the return of Bill and Ted to my screen as I am for Evan Dorkin's return to their comic adventures.
Dorkin, who penned the original adaptation and extension of the duo's adventures, cedes art duties to Roger Langridge, who also letters the book. Under most other circumstances, I'd be upset that Dorkin's pencils wouldn't grace the interiors of this book, but Langridge is a superb cartoonist in his own right, so it seems like an excellent pairing. Coincidentally enough, I think I pined for Langridge's pencils when discussing his recent strip, Pandora Perfect.
Bill and Ted Are Doomed starts in the year 2700, but is set chronologically between the end of Bogus Journey and the recently released Face the Music. As in all things Bill and Ted, there is a problem in the timeline, one only Bill and Ted can fix, lest the future descend into a chaotic disaster.
As Rufus and the team use a giant turntable doohickey to parse out the kink in the timeline, we find Bill and Ted struggling to compose "The Song," their composition that unites the world in musical euphoria and staves off war, suffering, and injustice for eternity. But they have writer's block, and the song seems as far from their grasp as when Rufus first alerted them to their cosmic importance in the original film.
The duo spends the rest of the book hashing out their current situation, briefly attempting to take stock of what brought them here. Despite the fact that Bill and Ted are now surrounded by a larger extended cast, with their wives and bandmates Elizabeth and Joanna joined by their children, hapless bass-playing Death, the station aliens, and the duo's robotic incarnations, neither can seem to see beyond their current situation. Perhaps Dorkin and Langridge are setting up some sort of supergroup concept to open Bill and Ted's eyes to the the potential contributions of their friends and family. And I'm definitely in for that.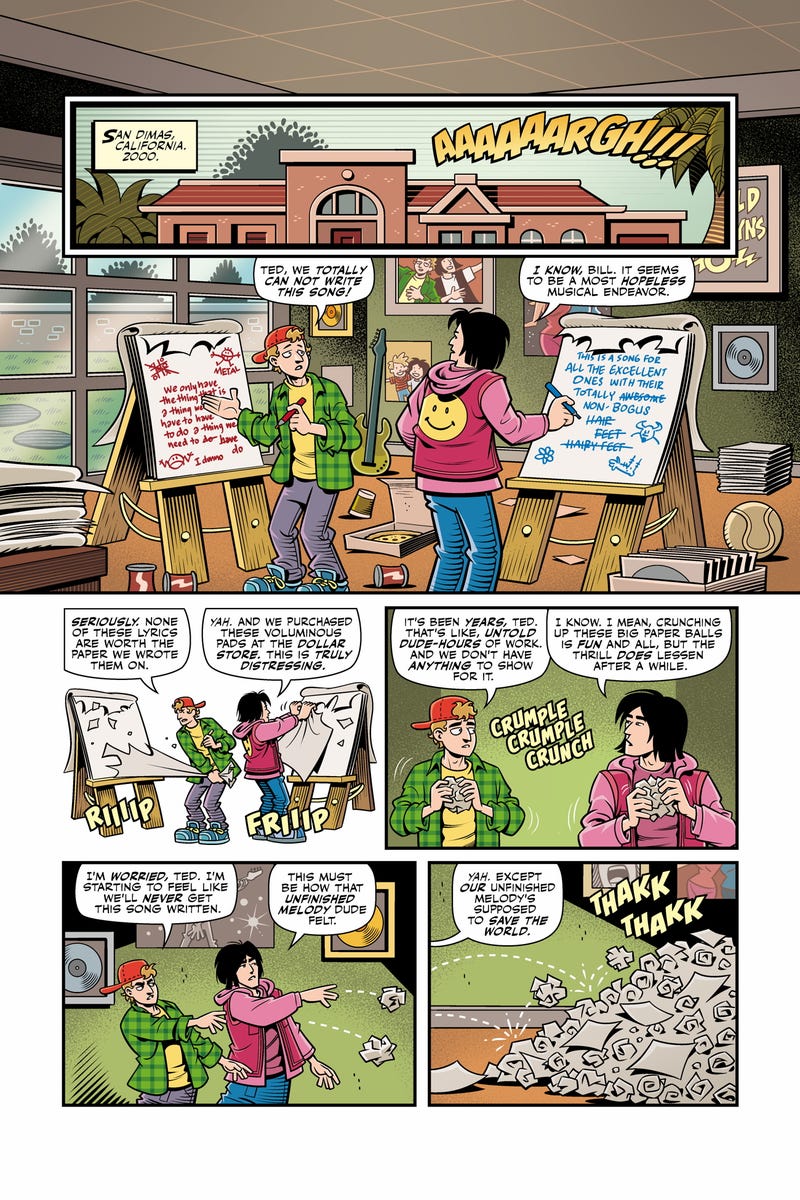 Dorkin's top notch script captures the original voices of the characters while adding new dimensions to the supporting cast. Peppered with music allusions, there are some great in-jokes that help break up the narrative. Referring to potentially expanding the band to include nine members, Ted retorts, "It would totally make us a ska band, and you know I've always been bad at picking things up."
Roger Langridge is a great partner for Dorkin. He channels enough of Dorkin's original series, especially in color scheme, to prevent any shift in tone or style. Langridge provides bright, lively art that elevates the visual humor while enhancing Dorkin's jokes. He works speech bubbles around nicely as well, and important component of this issue since it is dialogue heavy, relying on character interaction for both the core jokes while supplementing backstory and advancing the plot. Langridge avoids letting it get too clunky or crowded.
Bill and Ted always cheer me up, but it's especially refreshing to return to this world in 2020. Dour tales and post-apocalyptic polemics feel all too real anymore, and the ability to divorce ourselves from the status quo of anxiety and frustration is near impossible. It's refreshing to have something like Bill and Ted, not just because it's light and witty, but because it points to something better, as corny as it might be. It's fun to read a bright comic with an end goal to make the reader laugh, to embody the kind of excellent feeling Bill and Ted hope to impart to their world.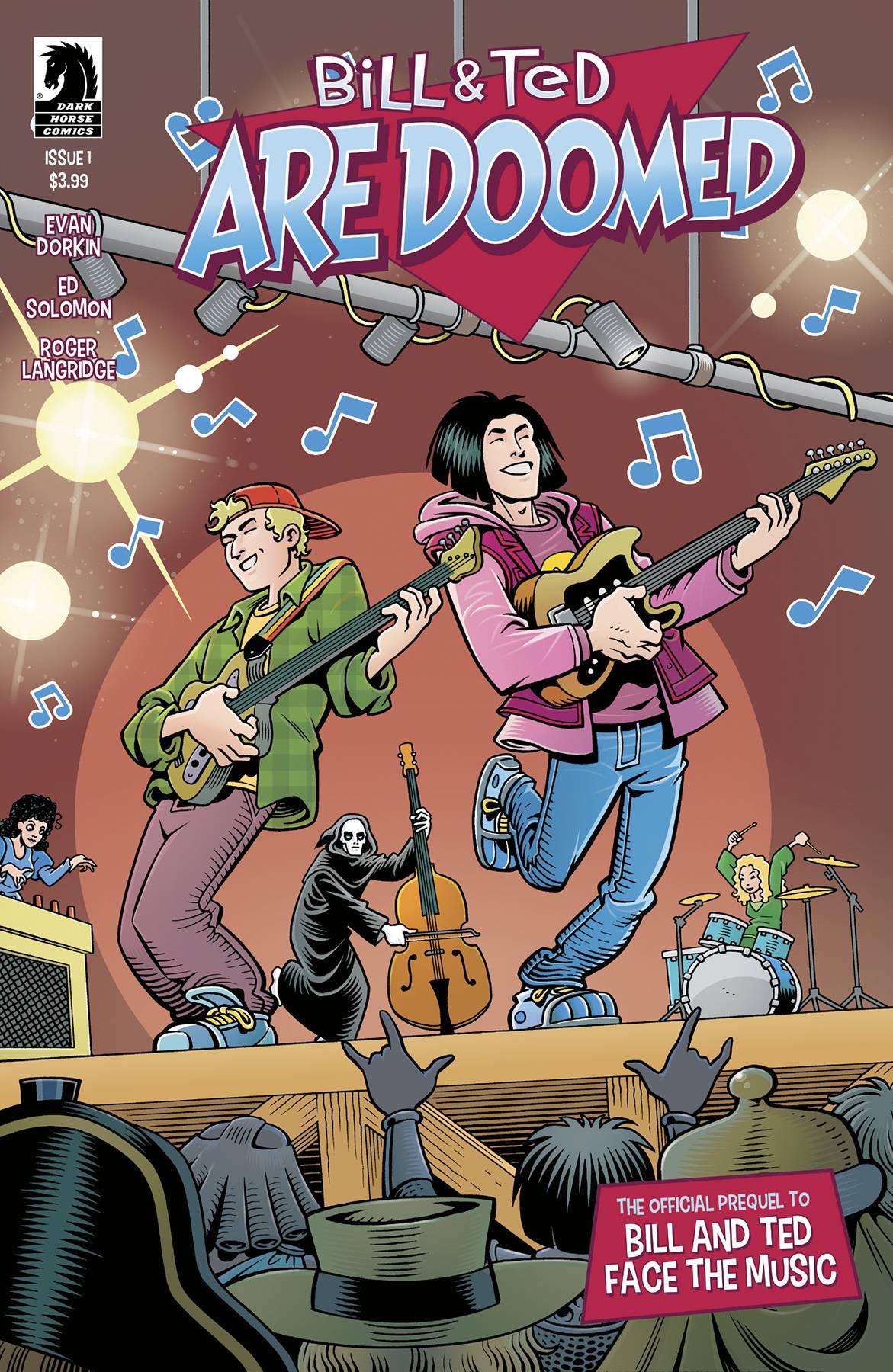 Bill and Ted are Doomed
Writer - Evan Dorkin
Artist and Letterer - Roger Langridge
Published by Dark Horse Comics