Mike's Favorite Comics of the Decade
2019 marked a decade of comics for me following my return after, coincidentally, a decade hiatus (more or less). I would like to dedicate my best of the decade list to
Third Eye Comics
and its wonderful staff, especially the original trio of Steve, Trish, and Torma. Third Eye wasn't the first store I stumbled into upon my return to comics, but it's the store that helped make my passing curiosity stick. It is more than a comic store; it's a family, and that experience is tangible every time I arrive to pick up my subscription box or stroll by on a weekend to pick up some random reads. In addition to providing weekly reads, I've had the chance to meet the likes of Tom King, Gail Simone, Jason Aaron, Mike Moreci, Scott Snyder, and Charles Soule there. It's a fantastic store, one of the best in the country, and its housed in little ol' Annapolis. Thanks Third Eye fam for everything.
I haven't necessarily ranked this list, but I will include my top five first. The rest proceed alphabetically.
Humor Book of the Decade
Giant Days
W - John Allison
A - Lissa Treimen, Max Sarin, Liz Fleming, Jenna Ayoub, Julia Kaye
C - Whitney Cogar
L - Jim Campbell
BOOM! Studios - BOOM! Box
Giant Days ranks as one of the most touching books I've read, and it's a hallmark of serialized storytelling. It's style can often be found in original graphic novels, but there is something special about this series that existed for over fifty single issues and a number of specials. There is a special relationship the reader gets to share with the characters as we watch Esther, Susan, and Daisy evolve with the years. Against the odds, this series about British university students was remarkably relatable for an American audience, and that is a testament to John Allison's ability to harness the universal feelings of growing up and growing into oneself. It's light tone and bright visuals often belie its deep emotional impact and the sardonic wit with which Allison addresses the little conflicts that make us understand who we are. As the book built to its conclusion, we start to see those little issues morph into the grand dilemmas that define how we will approach the world as adults.
Comic Strip of the Decade
False Knees
by Joshua Barkman
Perhaps the most compelling subgenre in comics is the nature strip, of which False Knees is an exemplar. Cartoonist Joshua Barkman draws intricate bird and forest creatures that could be included in a field manual. He varies his approach to the strip, occasionally pointing the focus just towards those intricate drawings, but most often to mine the absurd via anthropomorphic birds contemplating their own existential dilemma. Also, there's a lot of swearing, and it's absolutely hysterical to see a Blue Jay curse.
Genre Work of the Decade
Upgrade Soul
by Ezra Claytan Daniels
Lion Forge
Upgrade Soul was a book that wasn't on my radar until it appeared on many best of lists. Even still, I didn't have the opportunity to pick it up until a chance visit to the library where I discovered it placed quite prominently on the new acquisitions shelf. Ezra Claytan Daniels delivers a superb story that is an homage to the truly weird side of sci-fi, in the vein of a twisted Twilight Zone or Outer Limits. It's also political, commenting on the role of race while exposing new modalities of the master/slave dichotomy. More than anything else, Daniels's work asks why are we the way we are – and is it worth it to be better or different? There is an ever-lingering drive to achieve, to evolve, to grow. Should we give into those feelings? Should we press ahead to new worlds in the name of scientific progress? Is it even science, or is science merely the vehicle? What is it about our existential dilemma that causes the relentless yearning for something more, something better, and why can't we heed the cautionary tales? If anyone should have known . . .
Superhero Book of the Decade
Injustice: Gods Among Us
Writer - Tom Taylor
Line Artists - Mike Miller, Bruno Redondo, Jheremy Raapack
Color Artist - Andrew Elder
Letterer - Wes Abbott
DC Comics
Is there a less likely success story than Tom Taylor's Injustice? Amidst fatigue over the "evil Superman" motif that was seemingly mined to completion in the first fifteen years of the century, Tom Taylor and company somehow turned what could have easily been cast aside as a meaningless videogame digital first tie-in digital first into the richest superhero comic of the decade. That Taylor can explore character motivation – even outside of the main Batman/Superman dichotomy – while managing a cast that includes most of the DC universe is a feat unto itself. Taylor writes certain characters with remarkable precision and thoughtfulness. Billy Batson is reminiscent of his core characterization without being corny; his Harley Quinn pulls the best from both modern and classic interpretations, and she functions as the conscience of the whole work. Taylor's understanding of Sinestro is impeccable and nuanced, and so is his insight into Hal Jordan (much of which, in my opinion, previews Morrison's recent take on him). But it's his handling of Green Arrow and Black Canary, and specifically their relationship, that is the most touching element of his story.
The beauty of Injustice is how it functions both as a gigantic crossover and a meta-analysis of the superhero genre. The tropes that undercut superhero comics are nearly absent from Injustice. There are real consequences, and this book feels incredibly "real world" without being some gritty, nihilistic mess. Taylor asks big questions both of the heroes and villains of DC Comics as of us as readers – what is the price of safety? who sets the rules? what is the responsibility of the powerful to the powerless? But this book doesn't dwell on philosophy. Its story unfolds at a brisk pace, and it has become a definitive work in the superhero genre in this reviewer's humble opinion.
Original Graphic Novel of the Decade
Acme Novelty Library 20 - Lint
by Chris Ware
Self-published, distributed by Drawn and Quarterly
I don't reread books very often, mostly as consequence of an ever growing to-read pile, but I've gone back to Lint more often than any other book in the past ten years. Ware has a knack for mining existential mourning, and he paints a comprehensive picture of the altogether wasted existence of Jordan Lint, a man who doesn't exactly fall as much as he gradually declines. I've always read Lint as an indictment of privilege, with its titular character the personification of the mediocre 20th century American male, too nearsighted to content with his own failings, to self-assured to assign any consequence to himself. Ware's pages are robust collages of sorts. Few cartoonists can do as much on a page as Ware; his play with panel size and reading direction adds all kinds of layers to his narrative. Ware is an ingenious creator, and I've always considered this iteration of the long running Acme Novelty Library to be among his finest.
The next 25 books proceed in alphabetical order.
Boxers & Saints
by Gene Luen Yang with colors by Lark Pien
First Second
Yes, technically this is two books released at different times. Nonetheless,
Boxers
and
Saints
are paired together and function as two sides of the emergence of modern pre-Communist China. Boxers is a fantastical account of the Boxer rebellion from the perspective of the traditional Chinese peasants and militia members with foreigners classified as devils and Chinese Christian converts as secondary devils with little sympathy to either group aside from a few rare occasions. Saints focuses on a forgotten girl, Vibiana, the girl with the devil face from Boxers, who finds her only friends through Christianity, the very religion decried as a tool of foreign imperialism in Boxers. The notion of these two competing texts speaks to Yang's nature as a Chinese Catholic – the duality of his life also examined in
American Born Chinese
and
New Super-Man
. Both focus on how the individual fits into the greater scheme. In
Boxers
, there is a fundamental question of the sanctity of the individual or China. Bao Ling makes continued moral sacrifices that seem abhorrent to a Western mind all for the glory of China, and he does so without any major qualms. In
Saints
, Vibiana struggles to accept who she is in light of her new conversion to Christianity. Her identity is different, and perhaps it exists on a grander scale. Yang is clearly at home with these stories. His books are often great educational tools for Chinese culture and history, and in
Boxers
and
Saints
, he's able to give two thorough accounts of that history without coming down on either side. Dualism defines much of Yang's work, and it's executed with complete precision in this pair of books.
Clyde Fans
by Seth
Drawn and Quarterly
I named Clyde Fans my book of 2019, and I consider it a book of near epic proportions – the tale of boomer floundering, of having the world at their fingertips but letting it slip through ever so gradually. It is a story of one over-confident brother and another whose social anxiety disorder turns him into a near shut-in. Seth frames the story in the dying of the (north) American dream, but it's really much more a tale of personal loss about contemptible characters. At certain points, the reader almost want to launch themselves into the book to shake them to their senses. It's a mixture of self-loathing and frustration that typifies the modern tragedy and the subsequent purgation of emotion therein. Seth turns the mirror towards us - these aren't great men, not the tragic heroes of the past doomed by one fatal error. No, these are normal men who couldn't make it work. How the hell are the rest of us supposed to?
Descender
Writer - Jeff Lemire
Artist - Dustin Nguyen
Letterer - Steve Wands
Image Comics
This story is space opera for the ages, one that tries to get to the root of humans and our place in the universe, coupled with the hyper-relevant examination of artificial intelligence and robotry. Can a machine truly learn in a moral way? Can it have a soul, a moral compass? Can it experience tenderness? Can it repent? Bringing Lemire's vision to live, Nguyen creates his beautiful panels in all their transcendent watercolor glory. To see this world through his eyes is a special experience, and this is a special book.
Detective Comics: The Black Mirror
Writer - Scott Snyder
Line Artists - Jock and Francesco Francavilla
Color Artists - David Baron, Francesco Francavilla
Letterers - Todd Klein, Jared Fletcher
DC Comics
Amidst all the great Batman work Scott Snyder has produced, this one remains my favorite. Snyder's first foray into the Bat-world is different from the rest of his work in that realm because this one is primary character driven while the rest of his output focuses on the mythology of Batman, almost picking up on where Morrison left off. Snyder had his work cut out for him here. Rucka, Williams, and Jock's excellent Batwoman stories were only a few issues removed, and Morrison's return of Bruce Wayne and Batman Inc. were in full effect. This series is a hallmark of noir, elevated by the exceptional work of Jock and Francavilla, who alternate through this story to produce some of the best work of each off their careers.
East of West
Writer - Jonathan Hickman
Line Artist - Nick Dragotta
Color Artist - Frank Martin
Letterer - Rus Wooton
Image Comics
Jonathan Hickman and Nick Dragotta's East of West is the best science fiction comic series of this decade. The pair create a vivid world that draws on familiarities but extends towards weird and wild realms. To create this world, Hickman and Dragotta draw from the classic sci-fi western setting but merge it with elements of post-apocalyptic cyberpunk dystopia. East of West intrigues because unlike most apocalyptic fiction, it's less concerned with rebuilding the world or establishing a new status quo. Rather, East of West functions as a march toward Armageddon, towards the inevitability of destruction. Hickman is a master of this type of long form storytelling, and he pushes expansive ideas out through his characters while creating said character development by building a world defined by those overarching ideas. The result is a well-woven story with complex layers defined by competing motivations that always end up surprising. To build that level of consistent intrigue for over forty issues is an accomplishment in and of itself.
Existential Comics
by Corey Mohler
Occasional guest on Partially Examined Life, full time Marxist. Twitter provocateur, it's hard to imagine that Corey Mahler has enough time to complete Existential Comics strips. ExComs Is right in my wheelhouse because it both celebrates and lampoons academia. Corey takes a wonderfully modern approach, bringing acerbic wit, intentional anachronism, and geek humor to the strip, resulting in multiple layers of jokes while still educating about the particular philosopher or concept chosen that week. Few things put a bigger smile on my face.
The Flintstones
Writer - Mark Russell
Line Artist - Steve Pugh
Color Artist - Chris Chuckry
Letterer - Dave Sharpe
DC Comics
Mark Russell is the patron saint of satire in comics right now. He and Steve Pugh take the overarching conceit of Flintstones – a modern stone age family – and expand it and rearrange it to suit modern life, holding a mirror to society. Treatment of cro-magnons, xenophobia, naming of mascots, triviality of religion, Fred has to navigate through these modern moral quandaries. Often times there isn't humanity behind satire. Characters are types, and the message or theme supersedes the development of the characters. Most satire needs to work in such a way to make its point. But Russell adds depth and humanity to his characters. Fred and Wilma are real people who feel the effects of Russell's world for the reader, adding a deeper meaning to his satire. It's not purely biting. It's emotive.
Friendo
Writer - Alex Paknadel
Line Artist - Wayne Simmonds
Color Artist - Dee Cunniffe
Letterer - Taylor Esposito
Vault Comics
Friendo is perhaps the most prescient book of the latter part of the decade. Positing an all-too-realistic what-if question about the role social media and marketing could soon (or possibly now) take in our lives, Friendo is the epitome of a late-capitalist critique with some great nods to the post-cyberpunk genre. Simmonds art pops off the page, aided by colorist extraordinaire, Dee Cunniffe. The two combine to create a bright, near-futuristic world that works in great contrast with the overall tone of Paknadel's narrative. This is a world doomed by new tech, awash with color and lights and screens - not the typical cyberpunk darkly contrasted dystopia, and it's almost a little too real.
Ghost
by Raina Telgemeir with colors by Braden Lamb
Scholastic Graphix
Raina is the graphic novelist of the decade, and the magic she has brought to the form is on full display in Ghosts. The story centers on a pair of sisters, Maya and Cat, who move to a new town with their parents to hopefully provide a more conducive climate for Maya's Cystic Fibrosis. When I was a freshman in high school, a great friend lost her battle with Cystic Fibrosis, and this book touches a very particular part of my heart that makes it difficult to continue writing about the art or the story or Raina's genius. I'll leave by saying this book offers a tender and poignant account of hope in the face of inevitability, and it will always remain with me.
Hip-Hop Family Tree
by Ed Piskor
Is there a more impressive looking book than Piskor's Hip-Hop Family Tree? The textural layers Piskor achieves always throw me for a loop, and I find myself running my hand over the paper almost instinctively as if I'm going to feel grooves or edges. You feel like you're reading something old, like it has weight and meaning. And it surely does - Piskor is able to tap into the rich world of the nascent days of hip-hop, chronicling the big names alongside forgotten pioneers while reflecting on the culture, style, and community that surrounds it. One can get lost in Piskor's encyclopedic knowledge of hip-hop, and its especially fun to read the first volume of the series that narrates the initial evolution and codification of hip-hop and rap music from its ancestral roots while realizing the journey the genre has taken to its present form.
Joe the Barbarian
Writer - Grant Morrison
Line Artist - Sean Murphy
Color Artist - Dave Stewart
Letterer - Todd Klein
Vertigo
Joe the Barbarian would rank in my favorite comics solely for the fact that it introduced me to the work of Sean Murphy. Indeed, Murphy and Stewart combine for a visual masterpiece, creating a rich and otherworldly experience, tapping into Morrison's imagination. Murphy always does great work, but it's series like this or Tokyo Ghost that show his full range. Morrison and Murphy's world is cinematic and expansive, typically Morrisonian, but more fleshed out. Joe's world is reminiscent of C.S. Lewis's Narnia or the Albion of Philip Pullman's His Dark Materials with a dose of Toy Story. It's one of warrior polar bears and flying manta rays, and Murphy and Stewart make it jump off the page. All the while, Morrison's dual narrative moves along briskly as Joe fights for survival both in the Barbarian world and his own home. Joe the Barbarian is an absolutely beautiful book with an intriguing story.
Lil' Donnie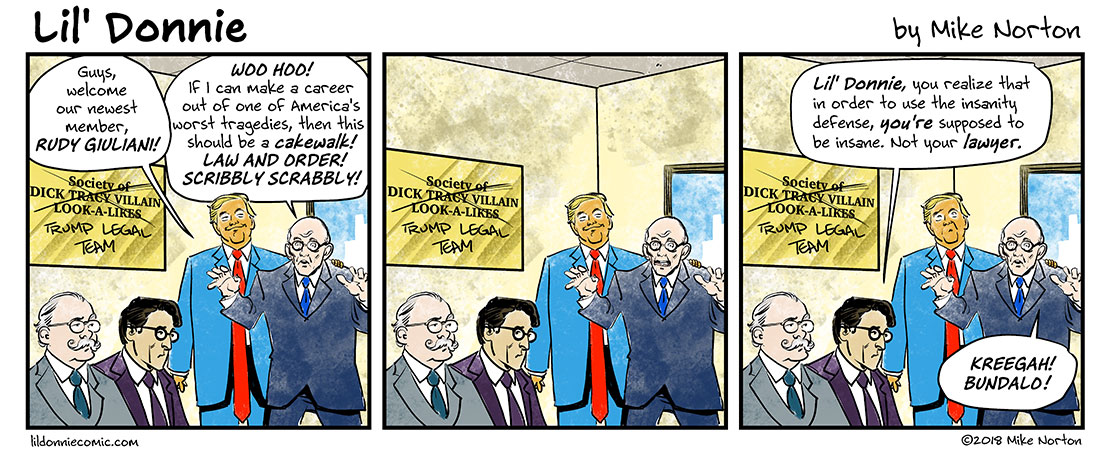 by Mike Norton
Mike Norton channeled his end-of-Revival depression and Trump anger into one of the best early Trump satires. Norton cast the president as an infantile goon surrounded by a cast of characters who are either entirely psychotic or equally incompetent. He mines some traditional Trump humor – little hands - bust casts some triply new styles onto the familiar faces. Mitch MocConnell becomes an Appalachian apple core doll, Paul Ryan wears only cutoff sleeves, Steve Bannon is essentially undead - you get the picture.
March Trilogy
Writers - Congressman John Lewis and Andrew Aydin
Artist - Nate Powell
Top Shelf
I was stunned when I originally opened the first volume of March to find it to be black and white. Powell's style is very crisp, and his thick inks and heavy shading provide ample contrast to draw the readers eye. March helps to prove the vitality of the form – graphic storytelling works wonders for this type of memoir because it quickly conveys feeling and concepts faster without sacrificing subtly or emotion. And the story itself, the journey of Congressman John Lewis, is uplifting while being heart-wrenching. A story of perseverance and the inevitably sacrifices that go along with it, the March trilogy is a worthy to enter a new canon of American classics and belongs in every classroom nationwide.
My Favorite Things is Monsters
by Emil Ferris
Fantagraphics
Emil Harris's fantastic 2017 offering was one of the first books I read in the burgeoning subgenre of sketchbook memoirs. It's a different mode of graphic storytelling, less prototypical sequential art and more of a collection of moments. In including this book on my favorites of 2017, I wrote that "Ferris created an expansive tapestry of emotion that deftly bridges memoir and commentary. She channels literature and comix, being equal parts Octavia Butler and R. Crumb with a heavy dose of Lynda Barry." I feel like "tapestry" is a great way to describe this book because it truly feels textures. When reading it, it almost feels like the page could smudge, so authentic are her pencil sketches. It's a beautiful example of shading and detailing, mixing styles from photorealistic to otherworldly grotesques. Reading this book is a throbbing experience; each page pulsates with life, and Ferris wastes little to no space. My Favorite Thing is Monsters speaks to the vitality of the graphic novel form, ever expanding, ever delving into new styles and methods to impart emotion.
Patience
by Daniel Clowes
Fantagraphics
Daniel Clowes produced remarkable work during the past decade, including Wilson, The Death Ray, and Mister Wonderful. In each work, Clowes experiments with different drawing styles and genre forms. I chose Patience for this list because I think it's both an inspired story and visually the strongest of his work this decade. Patience is a pop-art science fiction festival, simultaneously recalling Lichtenstein and silver age Marvel Jack Kirby. The color work is arguably the best of Clowes's career, and his linework is clean and definite. Each page has the crisp feel of contrast. The narrative is that of a cosmic time-travel love story fundamentally defined by grief and, more specifically, what we would do both metaphorically and realistically to overcome it.
Revival
Writer - Tim Seeley
Line Artist - Mike Norton
Color Artist - Mike Englert
Letterer - Crank!
Covers - Jenny Frison
Image Comics
I thoroughly enjoyed Revial, and I wasn't exactly planning to. Horror isn't really my thing, but I picked it up on the suggestion of Steve at Third Eye. I wasn't very familiar with Tim Seeley as a writer, but I knew Mike Norton, and a rural noir seemed like a different kind of book than I was used to from him. I expected to read the first issue and move on, but I went back for issue 2. And then it ended up on my pull list. And then it became the first book I read the weeks it arrived. And then it became one of my favorite series ever.
Set in rural Wisconsin, Seeley and Norton create a world where the dead don't exactly come back. Rather, they just kind of stop dying. And all on one day. It's a mystery that haunts the town, and the series strikes a Fargo meets Twin Peaks kind of vibe. Seeley is no stranger to horror, but this isn't Hack/Slash. It's far more subtle and pointed. Norton had always impressed with his stylized superhero work that was part silver age, part anime. Here, paired with colorist Mike Englert, Norton hardens his lines and focuses on the body language and facial expressions between the characters, giving the book the cinematic feel Seeley's script deserves. Tying everything together is the superb cover work of Jenny Frison, whose haunting images set up the reader for a great experience.
Shade: The Changing Girl
Writer - Cecil Castelucci
Line Artists - Marley Zarcone, Ande Parks, Ryan Kelly, and Marguerite Sauvage
Color Artist - Kelly Fitzpatrick, Katie Jones
Letterer - Saida Temofonte
DC Young Animal
I don't know if I can express in words how much I enjoyed this entire series. While I thought the first two volumes (girl) were better than the last (woman), I still think the series as a whole was a remarkable story of growth and acceptance, allegorically connected to the plight of high school. Castelucci plays with big themes – why is it insanity to you but enlightenment to me? Is there a way to transcend who you are, and if so, do you remain who you were at all, or are you just realizing who you should have been? The main art team, Marley Zarcone and Kelly Fitzpatrick, create absolutely mesmerizing psychedelic pages that I often found myself starting into long after I was done reading the page itself.
The Sheriff of Babylon
Writer - Tom King
Artist - Mitch Gerads
Letterer - Nick Napolitano and Travis Lanham
Vertigo
The Sheriff of Babylon was my introduction to Mitch Gerads, and it was the inaugural collaboration between the artist and Tom King. This is King's most personal work, a semi-autobiographical murder mystery set in the Green Zone shortly after the fall of Saddam. A mystery on face, there is a nagging quesiton that guides Sheriff - why are we in Iraq? King's stand in, Christopher Henry, never quite gets to this quesiton, but it haunts the book, which is rich in in layers of analysis of human relationships contrasted with political ones. Gerads work dazzles here. He has an uncanny ability, perhaps via sleight of hand I think, to make images look deep. While many artists are adept at makign their images bounce off the page, Gerads's sink in a beautiful way, almost like they are etched or carved into the page. That he can accomplish such a feat with digital art is simple remarkable. It adds another level to King's narrative, and the pairing creates an engrossing story of international politics and interpersonal relationships.
Silver Surfer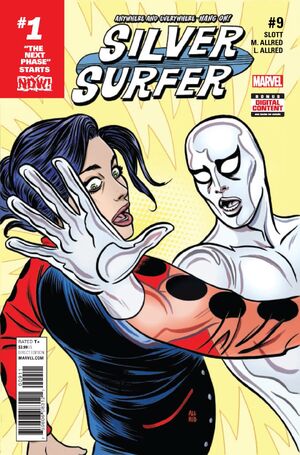 Writer - Dan Slott
Line Art - Mike Allred
Color Art - Laura Allred
L - Joe Sabino
Marvel Comics
Though I'm a mark for all things Silver Surfer, I think I can still evaluate this objectively. Mike Allred is a known Kirby aficionado, and this series properly pays homage to not only his visuals, but his method of storytelling. The Surfer has always functioned as a type of solitary hero: alone if not aloof, burdened by his mission and his past. Slott embraces these elements and turns them on their head, thrusting Norrin Radd into a cosmic romance. Silver Surfer isn't a typical superhero comic; it's a love story set against the backdrop of an adventure tale. Yes, the Dr. Who comparisons are fair, but Slot and Allred also draw from space opera and mythology to build their story. There are parts that feel incredibly Arthurian – a hero simultaneously burdened and set free by his duty. Yet there are also elements of this epic that are downright Shakespearian, especially some of the bard's best comedies that tip-toe on the edge of tragedy, like Much Ado about Nothing. Slott and the Allreds also fully embrace big idea science fiction. Mike and Laura lay out some of the most beautiful Surfer pages I've seen, gorgeously intricate and expansive picture of the universe set as a backdrop an appropriately and literally star-crossed love.
Smile
by Raina Telegemeirsmile,
Scholastic Graphix
I know I'm kind of cheating here since Smile began as a webcomic before it was released as a graphic novel, but it was in the graphic novel form that this book became an absolute phenomenon. At this point, Raina Telgemeier has achieved first name only status. When Guts arrived in the fall, I would hear students talking about "the new Raina book," bragging about how many "Raina books [I've] read." It's a beautiful thing. Raina's memoir of adolescent embarrassment resulting from a terrible accident and a subsequently more terrible set of braces reaches the hearts of young people because it taps into a universal feeling that even the most popular, seemingly well adjusted youth has to endure. All kids, at a certain point, feel like they are the only one who feels the way they do. It can be a lonely feeling. For some, it's short lived. For others, it's easy to manage. For all kids, though, books like Smile are the indicator that such as a feeling isn't unique. Billed often as a young readers or middle readers book, I often see Smile in the hands of 8th graders, along with its sequels as well as Raina's fiction work and Baby-Sitters Club adaptations. It's a rare thing when a book is this important to an entire generation, and I'm so happy it exists.
Superman
Writers - Peter Tomasi and Patrick Gleason
Line Artists - Patrick Gleason, Doug Mahnke, Mick Gray, and Jorge Jiminez
Color Artist - John Kalisz
Letterer - Rob Leigh
Tomasi and Gleason renewed Superman's voice with beautiful results. Gleason's conception of Superman – his tones, his shading, even his facial expressions – are exactly the picture of Superman that should be in every artist and writer's head. The criminally overlooked Doug Mahnke provides great contrast for Gleason's pencils, especially when the duo trades issues in the Black Dawn arc. Tomasi and Gleason rebuilt Superman and reestablished all that made Superman great while updating his world enough for the Rebirth era. It's an absolute crime that it had to end. During the course of this series, Tomasi and Gleason did more than just revitalize Superman. They were able to define who Jon Kent is as a character, merge the continuities of the New 52 and Rebirth, complete a Teen Titans crossover, save the Bizarroverse, and craft a definitive Superman story with "Goodnight Moon."
Underwater Welder
by Jeff Lemire
Top Shelf
It's hard to narrow the work of Jeff Lemire down to consider what to include in a list of this sort. His superhero work is different than his creator own genre work which in turn stands out compared to his work as a writer/artist auteur, some of which falls into the genre category as well. I chose Underwater Welder for this list because I feel it showcases a good amount of what Lemire brings as a cartoonist. In stark black and white, with thick brushstrokes and definitive separations, Lemire creates an initially bleak story of protagonist Jack's loneliness typified by a longing to discover the roots of a mystery tied to the disappearance of his father. The vehicle Lemire uses for this meditation of sorts is reality warping time travel, and the resulting perspective change for Jack enriches this story and gives a sense of hope to the overall disconnected protagonist.
Wasted Space
Writer - Michael Moreci
Line Artist - Hayden Sherman
Color Artist - Jason Wordie
Letterer - Jim Campbell
Vault Comics
A more imaginative take on the space opera would be hard to find. Writer Michael Moreci is a big Star Wars guy, and Wasted Space is both a send up of and a love letter to the space opera genre, playing with the tropes and motifs of space westerns, high tech/low culture, antiheroes, international politics, and religion. As a truly post-modern space story, it is a great reflection on current times. His characters are deep an malleable, and are brought to life with the stellar work of the incredible art team of Hayden Sherman and Jason Wordie. Sherman's approach is just avant garde enough for Wasted Space, and Wordie continues to prove he's among the best colorists in the business with his use of a wild palette to bring a vivid world to life. This is a superb book, a great blend of satire and story, and easily one of my favorite ongoing series of the past decade.
The Wicked and the Divine
Writer - Kieron Gillen
Line Artist - Jamie McElvie
Color Artist - Matt Wilson
Letterer - Clayton Cowles
Image Comics
At times, I struggle with what to say about this series that hasn't already been said. Simply put, it's one of the more original works of the decade, and it's funny that it achieves that feat by harnessing characters as old as literature itself. it is a treatise on the nature of celebrity itself and the cannibalistic nature of both the media and fandom as a whole. I love how it ties into music and performance. What are the gods for after all? There's no modern conception of salvation or redemption, but instead the gods are here to entertain and to be worshiped. They crave nothing more. There is no purity, there is no higher good. Everything is Dionysian, everything is in the immediate. There's a notion here about how famous child stars are bled dry, fleeting youth, the fleeting nature stardom itself based on fickle tastes. I love how this series embraces the over the top nature of the gods themselves. And, to close, let me highlight the superb work of Matt Wilson as colorist and Clayton Cowles as letterer. Neither can be taken for granted, and each should be considered among the top of the industry at their craft.
Wonder Woman
Writer - Brian Azzarello
Line Artists - Cliff Chiang, Tony Akins, Dan Green, Amilcar Pinna, Goran Sudzuka
Color Artist - Matt Wilson
Letterer - Jared Fletcher
DC Comics
A true gem of the New 52, Azzarello and Chiang's Wonder Woman is one of my favorite superhero books of all time. Perhaps I like it so much because it isn't a true superhero book, but really a modern mythology with Diana at the center. In addition to altering her origin, Azzarello and Chiang create a new status quo for Wonder Woman, putting her at the center of a war between the Greek pantheon for Zeus's throne. The tale is entirely self-contained, concerned little with the greater narrative of the New 52, and re-writing or revisiting enough of Diana's past that it's welcoming to all readers regardless of Wonder Woman fandom. Azzarello's strongest work in this series is turning it into an ensemble book and allowing Diana's character to reflect in the actions of those around her. First Born is the antithesis of Wonder Woman – cold, brutal, and destructive, he embodies all that Wonder Woman is not. Orion is a well-meaning but ultimately obnoxious bro who needs to be checked. Zola is stronger than she knows, but needs to come to terms with what lives inside her. Ares is more a force of nature and pragmatism than a war-monger. Wonder Woman transcends these characters and emerges as the goddess she truly is.
Thanks for reading. A brief word about accreditation: I finished this post while out of town, so I often didn't have access to these books. Others I had lent away and never received back, and some were library books. I'm sure I missed certain creators. For longer run superhero books, discerning who worked on what can be very challenging, especially since some books have someone ink a few pages here or there. If I missed someone vital to one of these publications, drop me a line on Twitter @triggercut_ and I'll fix it.