It's another day in December and another end-of-year best-of 2018 list goes live. This time it is one of mine and it counts down my top ten favorite limited series in comics.

Some of these were previously ongoing but have found an end to their story recently so my consideration for their importance lies with the similar and smaller ones.

I had a lot of fun reading these over the last several months and I hope my recommendations fall on eager ears looking for something new and fresh to read.

Enjoy.

Cheers🍻

10 | Days Of Hate
Story by Aleš Kot
Art by Danijel Žežlj
Published by Image
The year is 2022 and the world has gotten steadily worse; people have become desensitized to it and this controversial story tackles the inevitable pessimistic premise that starts off by saying "America first".
9 | Punks Not Dead
Story by David Barnett
Art by Martin Simmonds
Published by IDW
Sid Vicious is back.. well, sorta. Not much else needing said other than that his ghost is ferociously attached to a mild mannered misfit outcast named Feargal Ferguson. Read this with your favorite punk LP spinning in the background.

8 | Descender
Story by Jeff Lemire
Art by Dustin Nguyen
Published by Image
I really didn't want this story to end.
Descender
is that story you read and immediately feel drawn to the characters as you push and pull for the varying pathways that the story takes you. This comic, now a fully completed story, comes with personal high recommendations. Read this
before
Spielberg attempts his cinematic take on it.
7 | Hungry Ghosts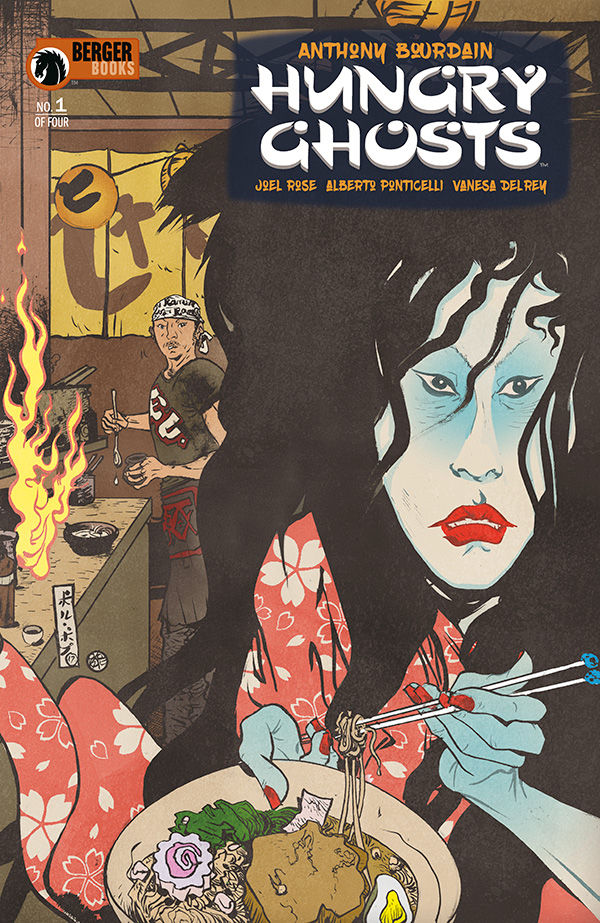 Story by Anthony Bourdain & Joel Rose
Art by Alberto Ponticelli, Vanessa Del Rey, Mateus Santolouco, Leonardo Manco, Paul Pope, Sebastian Cabrol, Francesco Francavilla & Irene Koh
Published by Dark Horse
One of my favorite fictional haunting stories of the year is paired with something non-fictionally tragic as well. Anthony Bourdain managed to add to his lasting legacy before he departed us with a miniature anthology of food themed stories inspired by classic Japanese tales. What was Anthony not capable of?
Rest In Peace, friend.
6 | Kill or be Killed
Story by Ed Brubaker
Art by Sean Phillips & Elizabeth Breitwesier
Published by Image
This is an inventive perspective of a story that follows a man on a mission. That mission is murder and, believe me, it is so much more captivating than it sounds. It shares intentional themes of divine right, mental illness and personal demons as the story unfolds itself and leads to an ending that you won't see coming.
5 | Abbott
Story by Saladin Ahmad
Art by Sami Kivelä
Published by BOOM!
Abbott is a book that is so dense with social commentary that you may forget that you are reading something about supernaturally provoked crime. This is quite an intense read and I wouldn't recommend it to everyone, but if you enjoy stories that involve crimes committed by the divinely intervened.. then this'll be a total hit.
4 | Cold War
Story by Christopher Sebela
Art by Hayden Sherman
Published by Aftershock
Ok. Full disclosure. I'm a sucker for Hayden Sherman art. His illustrations are raw and organic and are so gritty that it fits this story perfectly. Christopher Sebela is one of the more offbeat writers in the industry right now and this story is no exception.
3 | Batman: White Knight
Story & Art by Sean Murphy
Published by DC
I'm a huge Sean Murphy fanboy. (Is that still ok to call yourself a fanboy at the age of 38?) I've recently grown tired of cape and cowl comics, and more specifically with Batman ones. It just seems that they don't really have much more to offer other than just some more of the same; recreating an already drawn out character design. Hold up! White Knight turned my head, along with so many others and decided to make Joker the protagonist and Batman the antagonist. If this has been done before, someone please share with me the time.. because this version of Batman is one of the best in a very long time.
One of my favorite stories in comics of the year was one so vulnerable, so painful, so descriptive in nature, that it had me gripping the pages so tightly as I read it. Christopher Cantwell tells such a haunting tale in
She Could Fly
that it comes at much surprise that it's premise is driven by his own personal struggles with mental illness. I really enjoyed this story, and I think anyone reading my thoughts here would also.
1 | Doctor Star & the Kingdom of Lost Tomorrows
Story by Jeff Lemire
Art by Max Fiumara
It is literally surprise to no one that Jeff Lemire is my favorite comic creator. This story is a spin off to the ongoing,
Black Hammer
, and is so touching and heartbreaking that it is instantly a classic in my mind. This is a love story of a father and son. If the last page does not bring you a tear.. then you've probably ought to seek out a plumber because you've got a duct clogged somewhere.