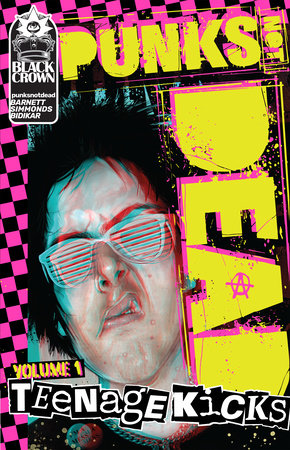 Punks Not Dead Vol. 1
Teenage Kicks
Writer: David Barnett
Artist: Martin Simmonds
Letters: Aditya Bidikar
IDW Black Crown Publishing
There's something to say about that middle ground of adolescence that is nothing short of a sweeping motion of awkward transition. Most moments where I've managed to recollect the times of me at twelve to fifteen are not something I'd prefer to refer myself back to, let alone tell you all about. Nevertheless, I give way to nostalgic remorse. It pains me to remember this period; the inventive fashion choices, the unexplainable vocal octave adjustments, and the skincare regimens (or lack thereof) all helped contribute to the time in our lives we collectively refer to as puberty. A prepubescent evolutionary assignment given to us without warning by mother nature herself. It's a time when we discover ourselves, our bodies, our individuality in personal taste in music, all simultaneously firing at every misunderstood perspective in our inner thoughts. We question our upbringing, we rebel against it, we chase boys and kiss girls (or both), and we don't understand anything about any of it. Nor do we even realize the necessity of our inquisition.
I say all this to preface the notion that with all things juvenile and adolescent, there are some things worth holding onto. One such thing is the love of all things comics.
Punks Not Dead
by David Barnett and drawn by Martin Simmonds is a new-ish comic book that has recently wrapped up its first volume. It has essentially rewritten an all-new definition to existential adolescence. It's a story of a young teen, Feargal Ferguson, with no defined direction and no firm circle of social circumstance to speak of. His only real meaning of existing, in contrary to the title of the comic itself, is the very real fact that a ghost of a punk rocker literally can not exit a specific and predetermined space near our lead character. The ghost of a punk rocker none other than Sid Vicious from the British punk band the Sex Pistols. Only Feargal (Fergie, for short) can hear, see, and communicate with this ghost punk haunting his every move with no firm explanation as to how or why.
Now, assume you were to refer back to your own prepubescent self in your mind, and your thoughts entertain also having a smooth-talking British punk rocker most infamous for his painfully short bit with the Sex Pistols stuck by your side. Pretty sweet, right? As an adult looking back, having a lost punk legend from the U.K. as your 24/7
BFF
seems like something worth wishing upon a star for, doesn't it? Wrong. That's where this comic comes in and navigates us through the simple premise of a story assuming an awkward teen down on his luck with a punk rock ghost that he can't seem to shake off.
"Don't Let Them Take You Alive"
**I am so so fucking dead**
What would happen if during this most awkward time you had somehow summoned supernatural abilities reserved only for that kid in M. Night's debut,
The Sixth Sense
, but instead of Bruce Willis you were able to see the most notoriously downtrodden and also unapologetically obscene punk rocker from the UK? This is the oversimplified premise to IDW's
Punks Not Dead
but with it brings a hauntingly good time. This first chapter,
Teenage Kicks
, compiles the first six issues of the story and will be collected and hopefully stocked at your local comic shops this week. Just in time for autumn and Halloween Sid Vicious will co-star alongside his unassuming teenage human host, Fergie, in this compellingly silly story of a teenager down on his luck.
This is a teenage melodrama.
This is a ghost story.
This is an exorcism.
(Or an attempt, rather).
This is a British game of cat chasing supernatural mouse.
This is a good read with a very specific audience.
Punks Not Dead
is a comic for the season without all the hemming and hawing of unnecessary spine-shivers driven by the intentional genre bursting that so many other horror books are doing nowadays. Simply put, this is a fairly light-hearted comic woven about with a handful of characters traveling through a story most often reserved for more better-suited shivers. The creators do a fairly decent job carrying this relationship of ghost and teen throughout the six issues after a very strong start. Issue one of
Punks Not Dead
does a tremendous job grabbing you by the slouched posture that you find yourself straightening from as you read me write this very sentence, and it takes the studded belt left hanging from your waist you hold dearly in the thoughts of your youth to jar your senses from panel number one all the way to the final page of the final issue. It is a fun read with enough pop culture references from the punk past of the 70s and 80s both visually and in the panel's dialogue to make this for quite a fun read. The story does struggle, though, for a brief moment toward the middle as it pains through some awkward growth spurts deciding upon which direction to go, and with what tone to tell it in. A case could be had to assume the intentional nature of the momentary struggle as it could literally assume the role of the chapter's very own pubescent stage in the nature of its progression.
We do have creator confirmation that
Punks Not Dead
will, in fact, continue and you can count me in on the second chapter. But also consider this:
Teenage Kicks
reads, feels, and exists as a stand-alone piece on its own right. This book can be picked up by anyone who loves comics, punk rock, faux horror, or supernatural failed attempts at exorcism without needing more to the story. When the final page is seen you will have an overall sense of satisfaction with the story that'd been told. A finite existence that won't need further storytelling, but you want nothing less than a continuous narrative. The closest thing to relate to this description that I can muster in a cohesive and explainable comparison would be when the 1985 film
Back to the Future
left us with a complete film having a beginning, middle and end while also teasing us with a possibility that there was more story to tell at the end of the tale... but we all know how that ended.. with continued narrative and more mishaps.
I'd be totally okay with a continued narrative of Sid and Fergie and anything that the open road might bring their way. I do recommend this book to those of you out there looking for something new and fresh and just a tad bit offbeat. It gets a strong 7.5/10 from me. Go buy this comic.
Go ahead and take my money, mister Barnett and mister Simmonds, 'cause at this point I'm all in with my investment.
- @argyleeater