Thanks for checking out the second installment of "I've Got Issues," my weekly round-up of choice reads. I've tweaked the format slightly, and I'm going to try (emphasis) to produce ten short, one-to-two-paragraph reviews of what I read in a given week. In general, I follow the "Believer rule" in that I try not to write about things I don't like. I see nothing good in contributing to the vitriol that permeates the internet. You are free to choose to read into the ten comics I pick however you wish if you're looking to glean what I "didn't like," but keep in mind that I'm both on a budget and a half time trade waiter so, no, I didn't think anything was wrong with Quantum Age, or Captain America, I just didn't get a chance to read them. And there were books I liked that didn't make the cut, like Leviathan. Also, please notice that I'm only reviewing single issues. There are a ton of good collections and OGNs every week, too. But I read very slowly. The nuns thought I had dyslexia. But I showed them. I was an English major! Hence, budget. I digress . . .
*BOOK OF THE WEEK* (tie)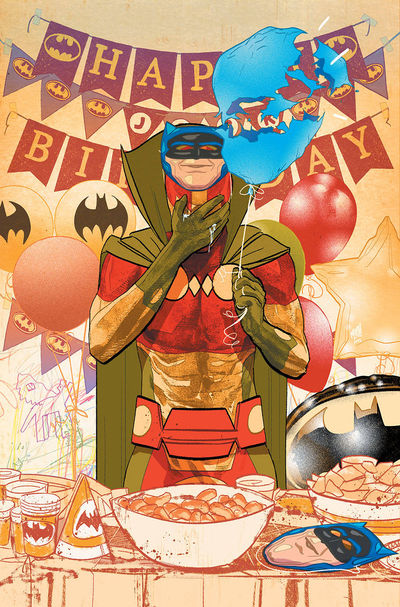 Mister Miracle 10
Written by Tom King
Art by Mitch Gerads
Letters by Clayton Cowles
Published by DC Comics
In a perfect world, after the final issue of Mister Miracle hits the stands and we've all had a moment to digest the series as a whole, we'll read a tweet or a Newsarama update that Tom King and Mitch Gerads have signed on for a Beetle-Booster-Barda-Miracle-centric JLI relaunch.
The hype surrounding this issue is well-deserved. King and Gerads have crafted a heartfelt meditation on the superhero genre and resulting moral quandaries associated with utilitarian ethics. Mister Miracle 10 brings the story to its final act as Scott and Barda talk both about and around their potential sacrifice offered in issue 9. This issue is tragic, heartfelt, and sincere. What King does so well in writing these conflicted characters is create appropriate authorial distance, allowing the reader to process and draw conclusions. He's a little heavier handed in his Batman run, allowing the Dark Knight to insist upon himself, which might be how it needs to happen, to be fair. But on Mister Miracle, he creates open spaces for the characters to flow. There are twists coming, to be sure.

King could not be joined by any better a sequential storyteller than Mitch Gerads who has for the entire series created exquisite nine panel grids unlike anyone prior. Gerads uses the grid system to sequence events with such subtlety that King is free to amp up the conversational dialogue. I feel that both men have gotten better at this collaborative effort throughout the series. The shower scene page is probably one of the best pages Gerads has crafted for this series, and it offers a microcosm of sorts for the series as a whole. The fact that King fills the page with Barda's dialogue instead of Scott's is indicative of just what kind of writer he has turned out to be.
Grade – 9.5, for superb storytelling and gorgeous presentation.
*BOOK OF THE WEEK* (tie)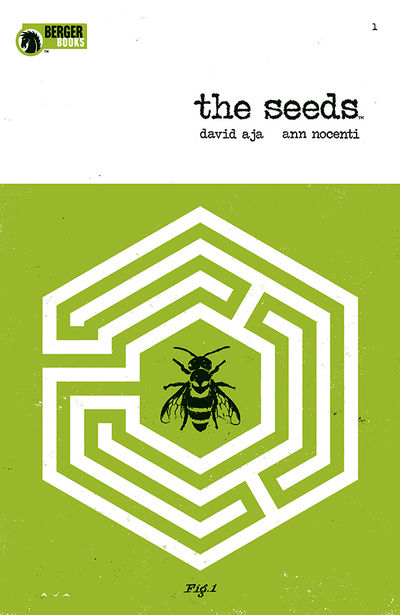 The Seeds # 1
Written byAnn Nocenti
Everything Else by David Aja
Published by Dark Horse
Ann Nocenti crafted my single favorite line in comics this week, "You see him over there? Tell him people can't go backwards. Not into the future they can't." There's something special about this book in the way that Mister Miracle or Saga are very specific collaboration between two in-sync creators. The Seeds is even more intense because Aja not only handles the art and coloring, but also the lettering. I'm glad to see black and white comics creeping back, and Aja's green-tint-inflected black and white art is stark and appropriately barren for this wasteland setting.

This issue is deep and it moves quickly. It's the first of a four issue series, so Nocenti and Aja have to work quickly to establish the setting and the central conceit. Still, this issue doens't feel rushed, mostly because of the six semi-over-lapping chapters that build this issue. Still, there are a number of big concepts Nocenti and Aja tackle in this comic, including the news media (clickbait and fake news, of course), the nature of a self-fulfilling prophecy, advanced technology, disease, immigration, mortality, sex, extraterrestrial life, and late capitalist economies. My favorite part of the book is the noir-inflected interaction between Astra and her editor, Gabrielle. It provides both character motivation and ties the book to familiar tropes. (There are two other superhero reporters, right?) This book comes incredibly close to beating out Mister Miracle for top honors this week, but let's just call it a tie.
Final Grade – 9.5, for innovative storytelling techniques and stellar art.
Batman # 52
Written by Tom King
Line art by Lee Weeks
Color art by Elizabeth Breitweiser
Letters by Clayton Cowles
Published by DC Comics
After the fallout of the now infamous 50th issue, I was somewhat surprised by how strong issue 51 was. I guess I anticipated some sort of letdown, perhaps? Issue 52 builds on this success.
Look, we get it know. No one can write superhero slice of life like Tom King. Not even Matt Fraction. I mean, he's made a book about jury duty one of the better books on the stands over the past month. I get it. It is a story about Bruce Wayne being on jury duty for a Batman case, but still.


There's a significant amount of pure Batman philosophy swirling in this book, and a lesser writer would feel the need to verbalize those dilemmas. Instead, King wisely trusts his art team, which is easy to do with Weeks and Breitweiser. There's a way Weeks deals with faces – specifically Freeze and both a cowled and uncowled Bruce – that plays with shadows such that there is increased emotional depth in this story, because, in the end, that's what this story is about – shadows, light and dark, gray areas - Batman's very existence. The solicit hints at Bruce hanging the cowl up for good, but – at the risk of revealing spoilers – that's not on the table in this book. Instead, we have a Bruce Wayne whose motivations as the sole holdout juror are still incredibly foggy, and we've got a hypothesis about another actor involved in whatever landed Freeze in lockup.

I think we know what to expect in these kind of Tom King stories. This is the second issue of the arc. He's not giving us anything to go on quite yet. Because it's King, the narrative is subtle and measured; it's non-linear, and it's inherently contemplative. Because it's Weeks and Breitweiser, it's gorgeous.
Final Grade – 9.0, for a strong core narrative and beautiful artwork. (I will say that I think this book would look even better on the new DC matte paper stock. Just saying.)
Cosmic Ghost Rider # 2
Written by Donny Cates
Line art by Dylan Burnett
Color art by Antonio Fabela
Letters by Clayton Cowles
Cover by Geoff Shaw and Antonio Fabela
Published by Marvel Comics
I am kind of out of the loop/behind the times when it comes to Donny Cates's Thanos work. I thought I would be able to pick up Cosmic Ghost Rider a little easier, but I even found it hard to recognize Frank Castle. Admittedly, I'm not incredibly well versed in The Punisher, either. In catching up on Cates' Thanos run, I figured I would jump in with Cosmic Ghost Rider. The first issue rushed right into action with little explanation of important elements such as "why" or "how." But, even if I was a little lost, it was a bonkers kind of book that was fun to read.
In Cosmic Ghost Rider, Cates ponders the nagging "nature vs. nurture" theory as well as the barroom favorite, "if you had a time machine, would you go back and kill Hitler?" Interdimensional spacetime paradoxes aside, It's fun to watch Frank Castle wrestle with metaphysical concepts. It's also a treat to page through Burnett's art as he combines elements of Kirby, Starlin, and Allred into his work. Burnett's renderings of two of Marvel's biggest cosmic entities is enough to warrant a purchase of this issue, but Cates's devil may care approach to the storytelling is what drives it home. In fact, I think I'm happy that I didn't have much background knowledge stepping into this series. It's all the weirder for it, and that's kind of the point of this series, isn't it?
Final Grade – 9.0, for an over the top romp that turns the dial to 11.
2000 AD Summer Sci-Fi Special
Written by Leah Moore, Emma Beeby, Alex de Campi, Laura Bailey, Katy Rex, Tillie Walden, Olivia Hicks & Maura McHugh
Line art by Dani, Abigail Bulmer, Babs Tarr, Liana Kangas, Sam Beck, Xulia Vincente & Emma Viaceli
Color art by Eva De La Cruz, Gab Contreras, Pippa Mather & Barbara Nosenzo
Letters by Annie Parkhouse, Ellie De Ville & Tillie Walden
Cover by Tula Lotay
Featuring a Judge Anderson poster by Maugerite Sauvage
Published by 2000AD/Rebellion
I wrote an incredibly long piece imploring our readers to pick up this issue that ran earlier today, so I won't go into a ton of detail about it again here. What I will say is that we all need to support female creators, and I think companies like 2000 AD deserve a few of your dollars for putting together an all-female creative team for their yearly summer sci-fi special. In the same way that comics can be intimidating for new readers, 2000 AD can be intimidating even for comic fans. Fret not. This issue will not throw you for a loop. It can't hurt to have your Google machine ready to check a few points of background info, but that's about it.
The issue itself is an incredibly solid mix of stories featuring premier 2000 AD characters. The stories range from over the top demonic metal absurdity to touching sci-fi inflected slice of life strips. It's a real treat, in that It's both novelty to American audiences and well-executed in its own right.
Final Grade – 9.0, for eight fully executed stories that each pique the interest of 2000 AD newbs.
Adventures of the Super Sons 1
Written by Peter Tomasi
Pencils by Carlo Barberi
Inks by Art Thibert
Color art by Protobunker
Letters by Rob Leigh
Published by DC Comics
Explain to me again why the original volume of Super Sons had to be canceled? I am as big a Peter Tomasi fan as you will find, and I'm especially fond of his work with Damian Wayne and Jonathan Kent. Some writers rely heavy on concept, some on intricately planned plots, others focus on characterization. With Adventures of the Super Sons # 1, Tomasi again proves why he is, if not the best, then one of the best character writers in the world of comics. Perhaps it's the inspiration he takes from his own sons, perhaps it was the years of editing other writers, or maybe it's sheer intuition. Regardless, something about Tomasi simply
gets
the characters he writes.
In this new volume, Tomasi keeps his foot on the gas as Damian and Jon still bicker. His control of these characters is remarkable. Barbieri and Thibert are excellent collaborators for this book. Barbieri's animation style pencils and Thibert's thick inks combine very well with the colors. (By the way, why hasn't DC made a Super Sons animated movie yet? Or television show? Come on. I mean, grow your goddamned brand.) This issue falls in with the previous volume perfectly. It's fun and cheerful in a way that you wouldn't necessarily expect from a story about two boys battling a mind-controlled statue destroying a city. It's hard to get much more into this story without spoiling the big reveal at the end of the book, which makes me just a tad skeptical of the direction of the next 11 issues.
Final Grade –8.5, for a strong start but a "jury's still out" ending.
Justice League 5 (Legion of Doom 1)
Written by James Tynion, IV
Pencils by Doug Mahnke
Inks by Jaime Mendoza
Colors by Wil Quitana
Letters by Tom Napolitano
Published by DC Comics
I'm going to complain about the narrative style below, but I'd be remiss if I didn't point out this line, a definite winner for line of the week had Nocenti not crafted her paradox - "In hell they feel it, too. Neron nearly drops a finely aged cask of human souls as a shiver runs up his spine." I mean, that's
badass.
I haven't loved the current Justice League book. I enjoyed No Justice well enough, but I haven't gotten into this core book. I get that Snyder is going for a throwback feel with both the narration and pacing, but it's just not jibing with me. I'd like to see the series kick it into gear, and I was curious to see if this Legion of Doom issue, written by frequent Snyder collaborator, James Tynion IV. JTIV has shown he has a knack for team books, but there's a fine line for handling a villain book, especially one that deliberately tries to tap the nostalgia gene. Moreover, the fact that a few of these villains have become far more complex than their original iterations provides a new complication. Luthor's heel turn wasn't entirely unexpected, but his character was rather dormant since the end of the Imperious Lex storyline. Sinestro's history has leaned towards tweener since Blackest Night. And, perhaps most notably, the Joker has, for about thirty years now, been portrayed as an entirely unpredictable psychopath, far from the "Clown Prince of Crime" of the Batman 66 or Animated Series conceptions.



There's something about third person omniscient narration in a comic that kind of irks me, but I think Tynion has a better control of it than Snyder. I love Scott Snyder's work, but his narration has been a little ham fisted. There's too much passive voice, and a style that recalls "It was a dark and stormy night." Tynion starts off in this direction as well, but something happens in this book that steers it back into the right direction, and I'm not sure exactly what that is. It's a good story, especially for those of us who have been eager to learn the origin of this current Legion of Doom incarnation and, perhaps more urgently, Luthor's rationale for his re-embrace of evil. And perhaps that's just it – this style works, or at least works better, for a Luthor/Legion of Doom book.

Moreover, credit Tom Napolitano for knowing what to do with about a million narration boxes in this book. He spaces out the narration and dialogue bubbles well so that they don't present too much distraction. I'll say this, though – Doug Mahnke, Jaime Mendoza, and Wil Quitana should be the art team for all of the Legion of Doom iterations. I forget sometimes how good Mahnke is at drawing villains, especially Sinestro. This trio has a great control of the dark-light contrasts that make a villain-centric storyline ooze with the necessarily evil without overdoing the dark pallet.
Final Grade – 8.0, for a strong finish and stellar artwork.
Weapon X 21
Written by Greg Pak and Fred Van Lente
Line art by Ricardo Lopez Ortiz
Color art by Frank D'Armata
Letters by Joe Caramagna
Cover by Rahzzah
Published by Marvel Comics
I enjoy Ricardo Lopez Ortiz's artwork. It reminds of an over-the-top Sergio Aragones. The tough thing about his art, though, is that you kind of have to "get into it." Despite working on the most recent issue of this series, his art is a definitive departure from all previous creators in the series. This is one of the many downsides to constantly shifting artists. There is a lack of consistent tone, which is not the worst thing in the world, but it's kind of jarring mid-arc. I actually think Ortiz's artwork would be a welcomed addition to the book; it would give it an alternative feel, separating it from the mainstream X-Men books.

The return of Pak with Van Lente to the book helped to take it in a better direction after the somewhat drawn-out crossover that started the series. Nonetheless, this issue signals a change in the Weapon X dynamic, closes a chapter on Logan and Warpath, and sends the team into a new direction with a somewhat predictable last page reveal (especially if you've seen the cover or solicits for issue 22). As a single issue, this book is mostly falling action. The primary storyline condenses fairly quickly, perhaps too quickly and a somewhat too convenient ex machina character reveal doesn't help the scattershot pacing. The wrap up feels a little rushed, and the "Sabretooth gonna Sabretooth" philosophy feels a little lazy. Nonetheless, this is a fun book, and it stood out this week because of Ortiz. The biggest downside is that he won't continue with these characters.
Grade – 8.0 for a rushed finish and a "been there done that" kind of ending.
Animosity # 15
Written by Marguerite Bennett
Line art by Rafael de Latorre
Color art by Rob Schwager with Dee Cunniffe
Letters by Marshall Dillon
Published by Aftershock Comics
Ok, per Aftershock's solicits, an appropriate plot preview for Animosity 15 is, "
With the hideous truth of the Walled City revealed, Sandor must use every ounce of cunning to rescue Jesse from her human captors-before the try to 'save the world' from the risen Animals." Ok. That sounds cool, but um . . . no spoilers . . . that's not what this issue is about. Instead, following the events of issue 14, this is essentially Kyle's origin story as his life flashes before his eyes. And it's tragic, as you'd assume.
There's a very real and rather fair criticism of white liberal that they (we) sometimes seem to care more for animals than we do our fellow human beings, and such a concept is the jumping off point for issue 15 as we're taken through the early life and adolescence of Kyle. It's a heartbreaking account of his life in and out of orphanages and foster care, shifted from state to state, always looking to belong, always looking for a family. The pacing of this issue is superb, and de Latorre's alternation between splash pages and panels is a strong way to handle a story that is mostly flashback.
Final Verdict – 8.0 for poignancy and thoughtfulness.
Bloodstrike # 24
by Michael Fiffe
Shorts by Various Creators
Published by Image Comics
The best part of Bloodstrike 24 is one of the opening lines of the title character, a riff on the typical reminder, "I'm so and so, and you're reading my book now" mode of narration. After Bloodstrike walks us through the typical reminder, Fiffe goes meta, writing, "My memory ain't want it used to be. I have to repeat this sort of information once in a while."
I'm a big advocate of getting more cartoonists into superhero books. I think there's something special when one person creates and executes an entire issue. Like Ed Piskor's X-Men: Grand Design, Fiffe brings an approach that we don't often get to see in mainstream comics.


It's kind of funny to see how Fiffe reimagines Cabbot Stone with some Deadpool tendencies – capable, reluctant, disrespected. Perhaps that's an homage to Liefield. I was curious as to how Liefield secured Fiffe to work on this short series, essentially a pair of 24 year belated fill-in issues. After reading the letters column, though, you get the sense that Fiffe has a fondness for early Image products. But you don't necessarily need the same fondness to appreciate this brief series. Continuity isn't important. The storyline is a riff on the genre, and the characters exist as meta-commentators. There's no fourth wall breakage here, but there's a definite wink-wink approach. But again, this is a series to appreciate for the artwork, the experimental coloring, and the wonky panel designs. Copra is indeed a more fleshed out narrative, and likely Fiffe's magnum opus. Bloodstrike is his concept album.
Final Verdict – 8.0 because I guess it would be nice if it made a little more sense.